Current Projects:
Agriculture Land Commission: Coming soon November 2019
Jaxon is please to announce that he is currently working on a large custom piece for the Agriculture Land Commission of British Columbia (ALC). Be sure to follow Jaxon Jurome on Facebook & Instagram l for updates as he completes this one of a kind project showcasing the history and important role of agriculture in the economic development of the Okanagan Valley!
Past Projects:
Kelowna Mission MAkeover: November 2018
Jaxon Jurome teamed up with Jaimie Kehler Interiors to completely remodel this lower mission home on Springrose Road.
When Jaimie and Jaxon were first approached for this project, the goal for the living room was to showcase their client's amazing collection of Canadian art & really make the walls "pop" while keeping the space modern & contemporary!
Jaimie did an incredible job of modernizing the interior while Jaxon worked on one of his biggest, brightest paintings yet, "Autumn Azure", as a centre piece for the fireplace.
While this commission was definitely one of his tougher pieces, Jaxon, Jaimie and the home owners were beyond thrilled with how the the collaboration and painting turned out!
If you know of someone looking to remodel their home, Jaxon and Jaimie would love to put their services to work for you. For interior decorating, be sure to reach out to Jaimie Kehler Interiors at www.jkinteriorskelowna.com.

For more pictures of the transformation process follow Jaimie on Instagram @jaimiekehlerinteriors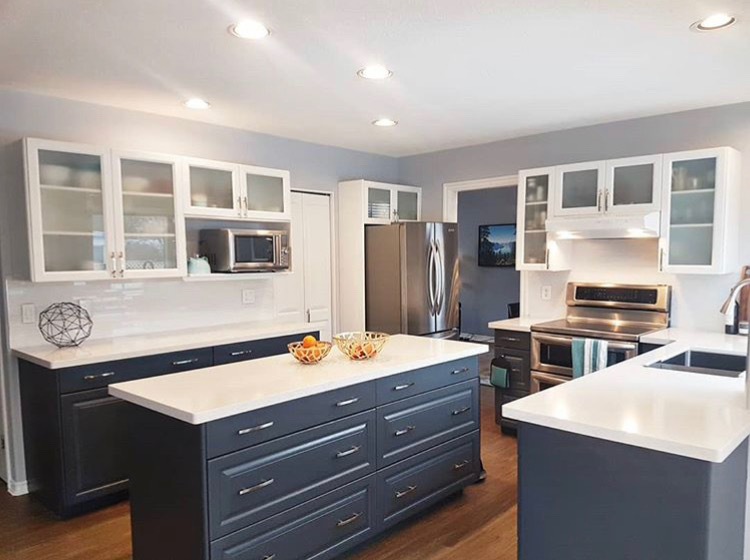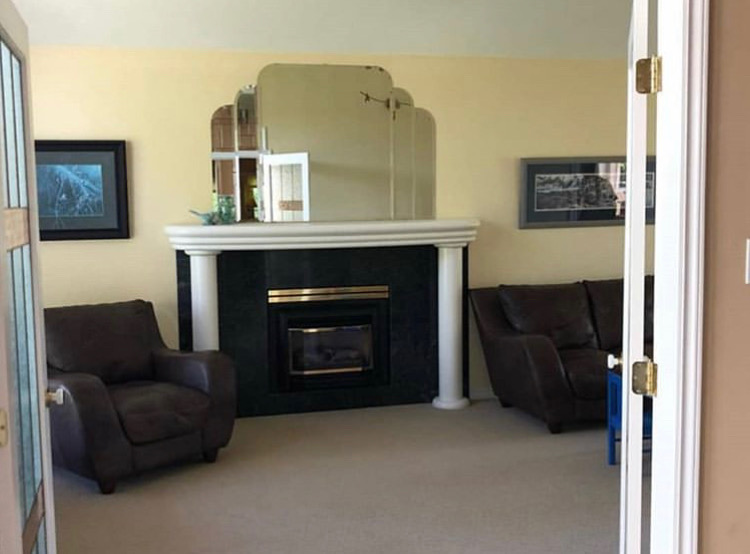 Homes & Land okanagan contest: December 2018
In the fall of 2018, Jaxon was approached by one the Okanagan's largest real estate publications, Homes & Land Okanagan Magazine, to commission this 30x48" piece titled "Island Reflections", to be featured as the main prize in their 2018 social media holiday promotion.
This contest generated an excellent response on Facebook and Instagram with over 600 comments, 629 likes & 300 shares, yielding hundreds of new followers for their social media accounts.
If you know of someone looking to do a social media contest, paintings can be a very effective way to produce successful results in a marketing environment where originality stands out. If you are looking to grow your following, be sure to ask Jaxon how he can help structure your next social media promotion today!


Click here to purchase giclée prints of "Island Reflections".
harmel Family property, oyama BC: April 2018
The Harmel family have been longtime residents of the Oyama area of the Okanagan, in between Lake Country and Vernon, for many generations.
With ongoing development and change occurring in the area, Jaxon was approached by the Harmel family to commission a painting that brought together all of the aspects of growing up on the farm as kids.
Some of these features included the iconic Harmel Family peach orchard when it is in bloom during the springtime, the famous Owls Nest Resort sign (ONR), the bright yellow willow trees by the Lake & of course, the sparkling azures of Kalamalka Lake!
Tying all of these aspects together, Jaxon was able to reproduce this panoramic 24x48" original titled "Harmel House Vista", by providing embellished giclée prints for all members of the family!

Lakeshore Road Estate: november 2017
In the fall of 2017, Jaxon had the pleasure of working with a well known Kelowna family to provide 2 large centre pieces for their beautiful lake view home on Lakeshore Road. With their estate overlooking St. Hubertus Winery, Jaxon worked with his clients to formulate a scene that showcases the beautiful colours of the vineyard at the end of the harvest season with his 36x60" piece titled "Autumn Leaves, St. Hubertus Winery".
As passionate seafarers who have sailed around the world, Jaxon also custom painted a scene from Symi, Greece. Having sailed into this famous port, Jaxon's clients always looked for a way to bring this beautiful harbour a little closer to home. One of Jaxon's most detailed pieces, this vibrant painting titled "Sailing into Symi", now serves as an excellent memory & conversation starter in their dining room where friends & family gather.
Have an idea for a conversation starter for your home? Be sure to reach out to Jaxon to see how he can make your ideas come to life!

Painting the Snow Ghosts of Big White: January & march 2017
As a longtime ski racer and freestyle skier Jaxon has a special connection with the mountains and loves painting the "Snow Ghosts" that are so iconic to British Columbia's ski resorts. Well known for his artwork of Big White Ski Resort, Jaxon enjoys painting these friendly, snow laden characters as each snow ghost is unique and like the snowflakes that create them, there are no two snow ghosts are the same! During the 2017 ski season, Jaxon did 2 custom projects for clients with chalets at Big White. "Enchanted Forest" (left) is a scene from the Alpine T-Bar at the top of Big White. It was Jaxon's largest painting every commissioned at 4x6 feet! "Above the Clouds" (right), a 3x4 foot piece of the Ridge Rocket Express Chair lift, was originally based off of a photo his client took during the last run of the day on Christmas Eve 2016. It was awarded the FCA's painting of the month in March 2018 and to this day, it has been one of Jaxon's all time best giclée print seller as the colours of the painting change depending on the time of day!

Looking for a painting for your ski hill condo? Jaxon Jurome is regarded as one of the Okanagan's best artists when it comes to Big White & Silverstar paintings. Be sure to check out is online gallery for other ski hill paintings such as award winning 24x36" piece "The Perfect Day"!
a wedding gift to remember: may 2016
Marriage is a bond that lasts forever. In the spring of 2016, Jaxon was asked to commission a very special gift that would last the test of time and forever serve as a reminder of home.
Having recently moved away from Okanagan, Jaxon painted this 18x24" scene titled "Always Here to Welcome You Home" for the bride and groom on their very special day. Having significant meaning, this piece, located on the shores of Okanagan Lake, was a pleasure for Jaxon to paint.
Looking for a thoughtful wedding gift that will always stand the test of time? Be sure to add an Jaxon Jurome original to your wedding registry today!